"They made many promises but only kept one . . . they took our land."
The beautiful embroidered patch you see here was designed and inspired by Rick "Spider" Kramer of Spider Tattooz. Rick—who prefers to be called Spider—became a custom tattoo artist in 1986. He was originally a painting and airbrushing artist but decided to start Spider Tattooz as a hobby extension of this and had a small studio put together in a back bedroom of his house; this has now become a full-blown tattoo studio in Sycamore, Illinois. Spider has many other interests—one in particular is highlighted in this article.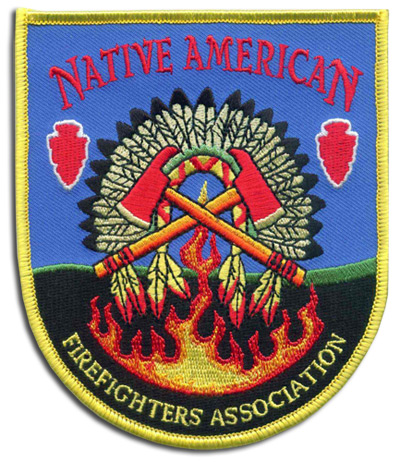 Spider is a volunteer firefighter who belongs to a group called Fire Nation. He observed that within this group, out of all the sub-groups that existed, none of them were related to the Native American culture in any way. Setting out to change this, he started the Native American Fire Fighters Association. Referring to the Native American people he says, "It's about time America really remembers and never forgets what happened to these people."
The Native American Fire Fighters Association is a collection of Native American Indian Firefighters from all over, including several reservations. Its purpose is to be a place for Native Americans to get together, talk, and share ideas with each other. Spider goes on to reveal, "I think it is important that we keep the 'native' part alive and not just bury it in history. We lost 343 Firefighters on 9-11 but we also lost thousands of Native Americans at the hands of the US Calvary; these too should also be remembered and never forgotten."
The main purpose of the Native American Fire Fighters Association patch is, of course, for Native American awareness. Each member of the association owns one, and many collectors own one as well. This patch is one of a kind—Spider does not trade them, but makes them available for $8.00 each, with shipping. This is a good deal considering the beauty of the patch and the fact that it is larger than an average patch, measuring in at just under five inches in height.
This custom patch uses nine thread colors and is embroidered onto a medium blue twill background with a yellow merrowed border. The thread gradient effects on the fire further add to this patch's appeal.
To learn more about the Native American Fire Fighters Association or Spider Tattooz, visit the Spider Tattooz website.
Visit Stadri's section for fire patches to view custom fire patches we have done for previous customers.