The Northeast Georgia Council held the 13th Annual Boy Scout Invitational Golf Tournament on April 22, 1996, at the Chattahoochee Golf Club in Gainesville, GA.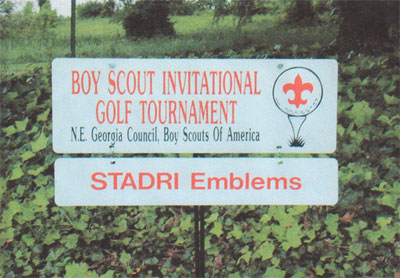 The event featured a $2,500 putting contest and gift certificates and prizes for three flights of teams—provided by Ethan Allen and Belk's. More than that, it was fun—the kind of wholesome outdoor fun indicative of the Boy Scouts.
This tournament marked the first time Stadri Emblems had the privilege of sponsoring a hole at such an event. As players worked their way through the tournament's two courses, we became part of the golfing landscape, having a unique chance to achieve high-visibility as a Scouting partner.
The tournament was successful in its goal of providing funds for Scouting and increasing awareness of the Boy Scouts of America in Northeast Georgia. Since then, Stadri has sponsored many more tournaments, and, in 2007, became an Official Licensee of the Boy Scouts of America. This has enabled us to be even more involved with supporting Scouting at every opportunity, and passing on further savings to scouts on their custom Boy Scout patches.