Derby Love Woven Labels
Who doesn't like a good skull heart design? The folks over at Derbylove write a comic and produce roller derby inspired products using a cool hear skull logo: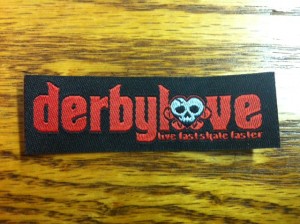 Derbylove used a thicker denier on their woven label than the purple cow woven label written about earlier. Perfect for use outside of a bag or garment, the thicker thread holds up well to wear and tear. Being a straight cut label, this label can be sewn on all sides for proper branding of the product. This particular label was spec'd with a heat seal backing that will probably be used to attach it.
If clearer lettering in the "live fast skate faster" motto was wanted, the label could have been made bigger, been weaved with a finer thread, or a different process could have been used.
---
Purple Cow Woven Labels
I never saw a purple cow.
I never hope to see one.
But I can tell you, anyhow,
I'd rather see than be one!

Nursery Rhyme, Author Unknown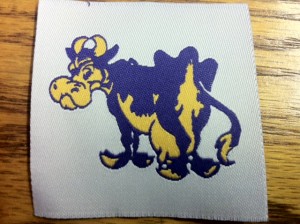 It was love at first sight with this woven label for nothing more than the beautiful purple cow. Simple and clean, this woven label is made with a fine denier giving great detail and a soft feel - the lower the denier rating, the thinner the thread used to weave the label and the greater the detail. This square, straight cut woven label was made without backing and will probably be sewn onto the item. Very cool, purple cow!
Design your own woven label and get a quote within 5 minutes!
---
The Wonder Pot Printed Labels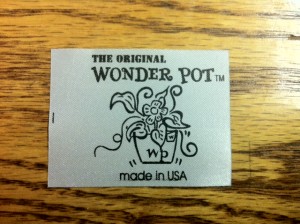 Judging by the uses listed on their website, The Original Wonder Pot is a highly versatile tool! The Wonder Pot is described as an agricultural, fabric growing container, designed to provide an optimal environment for healthy plant cultivation, which can be used as box planter liners; composting, leaf, or storage bags; firewood storage; controlling plants from spreading; soil erosion and flood suppression; and much more.
Stadri Emblems produced this printed satin label with a sew allowance in mind. The design looks off-center, but the space to the left is referenced with a small line enabling proper space for the printed label to be sewn into a seam. Once sewn, the visible portion of the label will be perfectly spaced. The location of the sewing allowance depends on where the label is going to be used.
---
Dstrands Hang Tag
When it comes to colors, I'm a mush for matte black. Gloss certainly has its place but to me a matte finish is the dog's tuxedo. A matte finish isn't just color, its a texture that adds physical feel to the emotional connection color enables. hang tags with a matte finish are a natural pair.
dStrands
took advantage of one of our killer specials, pairing woven labels with hang tags: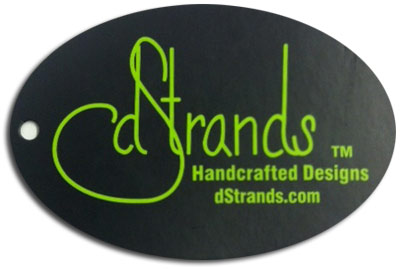 dStrands spec'd their hang tags to be a simple oval shape with one-sided printing. Hang tags can be made in any shape, stock or custom with one sided printing or with both sides printed. Simple with great color choice, dStrand's hang tag will certainly make their handcrafted items pop!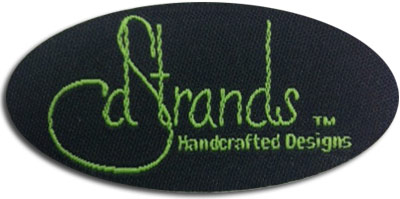 The matching woven label is a miniature version of the hang tag helping to build brand identity. The iron-on backing will make the label easy to apply to garments.
Sign up for our newsletter to keep up to date on the latest specials!
---
Squaw Woven Patch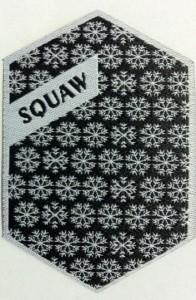 It seems like I'm always talking about how great our embroidered and woven patches are. We use the best machines, threads, twill's, and processes to make the finest patches in all the world! This edition of the hand-picked series showcases our abilities in creating custom woven patches.
The intricate snowflakes on this patch are absolutely wonderful! Woven patches like this produce more detail than an embroidered patch, as the threads are woven together on a loom instead of stitched onto twill or other substrate. With the patch approximately 2 1/4" x 1 1/2", the snowflakes are less than 1/4" in size, with fine details given to the structure that makes up each snowflake. This woven patch is diecut, giving it a clean diamond shape with heat-seal backing that allows it to be ironed on to the outside of a jacket, hat, or other type of garment. Remember, when you're looking for fine detail, woven patches are the pick.