The first official day of Autumn is September 22. Here in Woodstock NY, the leaves are changing color, we've brought our sweaters out of storage, and we've been creating a lot of amazing Fall and Halloween patches for the Boy Scouts!
Something that we love about Boy Scout patches is their creativity. When designing a Fall themed patch, especially a Halloween one, there are so many opportunities to make something fun. Few color schemes are more appealing than the reds and greens of the fallen leaves, the yellow of hay, and the orange of pumpkins. For many, fall evokes a feeling of being cozy. But also, Fall means the appearance of many fun Halloween icons: ghosts, jack-o-lanterns, and zombies. We hope that these Boy Scout patches from recent years will get you as excited for Autumn as we are, and inspire you to try something fun when you're ready to place your next scouting order.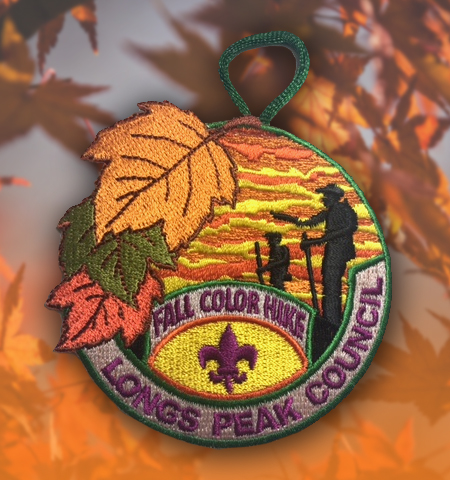 Our first patch comes from the Longs Peak Council for their Fall Color Hike. The three leaves placed over the traditional circular shape really makes this patch stand out. The silhouettes against the sunset compliment the fall colors beautifully. Purple was a great choice for the text on this patch.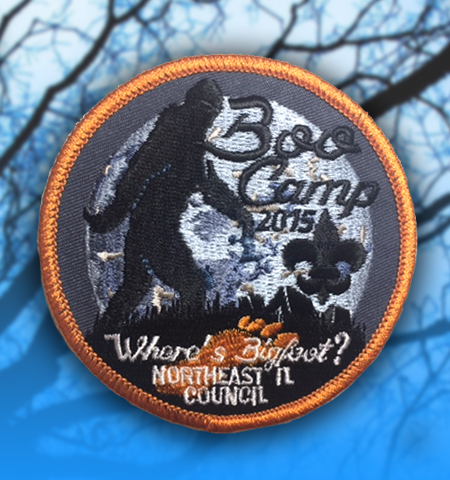 Our next patch is for the Northeast IL Council. This patch asks an important question: Where's Bigfoot? Another great use of a silhouette, this patch features our favorite cryptid creature against the moon. The orange merrowed border ties this spooky patch together to make a great design. We also love the details in the moon, and the stitching of the grass.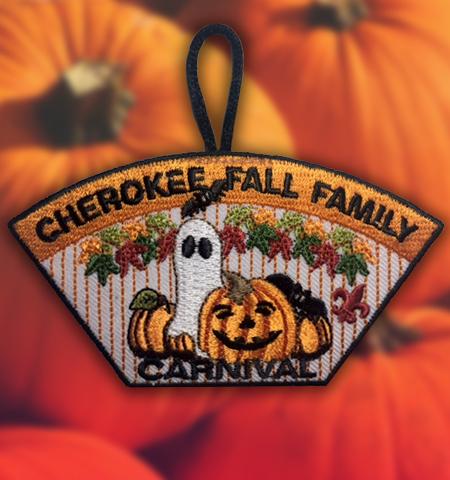 The Cherokee Fall Family Carnival patch is simply adorable. With it's small details, appealing thread color choices and family-friendly imagery, this patch makes us think of trick-or-treating, costumes and candy.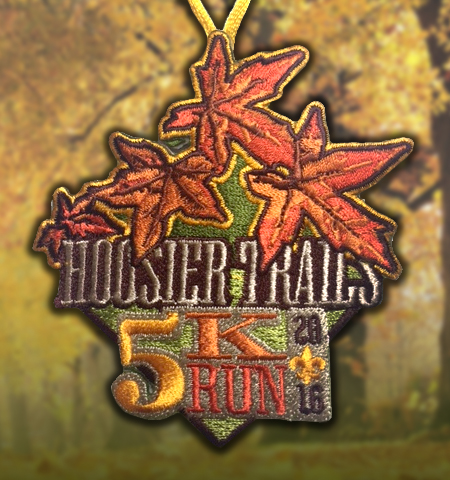 We love it when troops aren't afraid to step outside of traditional shapes and try something fun. These Hoosier Trails 5K Run diecut patches feature beautifully stitched fallen leaves. The overlapping effect on the text and edges really gives it a sense of depth. And, of course, you can't pick better colors to represent Autumn than these.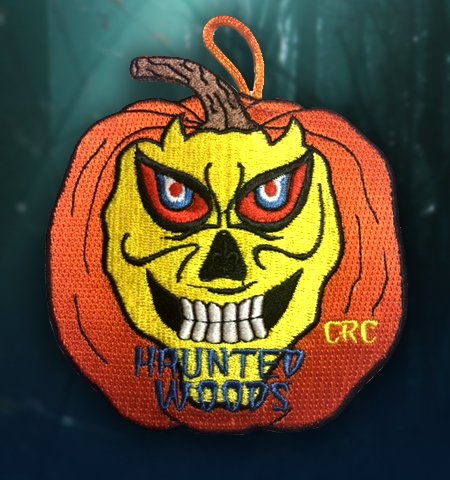 We just love this creepy jack-o-lantern Haunted Woods patch. Did you notice that there is a fleur-de-lis hidden in it's nose? That is a technique called "ghost stitching" and it's used on Boy Scout patches quite often. The technique is to stitch the same color thread on top of a color to give it a subtly raised effect.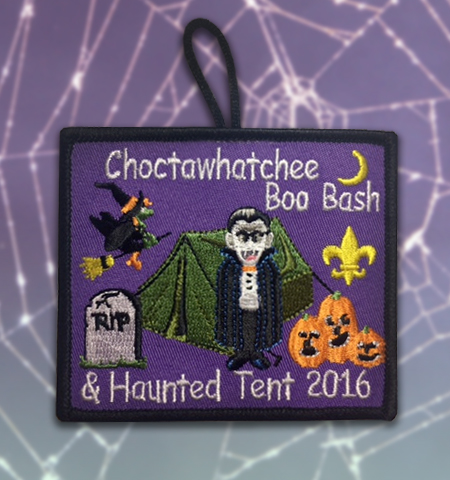 This Halloween patch from The Choctawhatchee Boo Bash & Haunted Tent 2016 is packed with iconic imagery: Vampires, witch, pumpkin, grave and crescent moon. We love the choice of a purple background to really make the stitching stand out.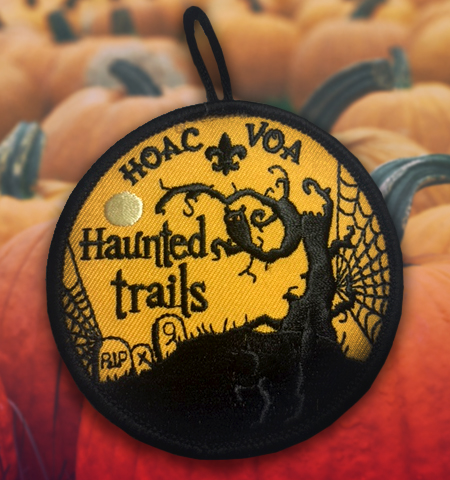 Sometimes, simple is better. With only two thread colors, this Haunted Trails patch still has a ton of detail and hidden elements.The bottom of this patch features a ghost-stitched black cat. The small twisting branches of the tree, the small glowing eyes of the owl, and the pale yellow moon make this patch's design really strong.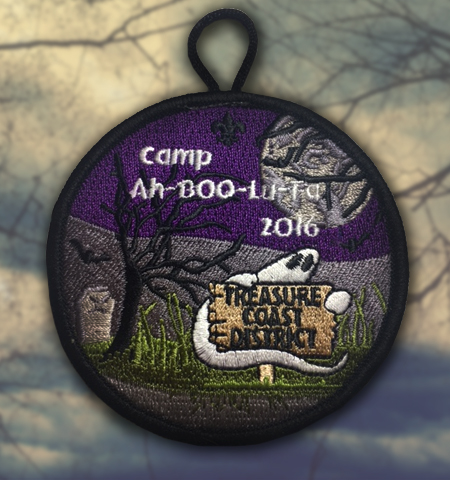 This Treasure Coast District patch sets a spooky scene in this graveyard themed patch. With it's dark colors, this patch definitely gives off a creepy vibe. The coolest detail of this patch would definitely have to be the tree branches across the moon.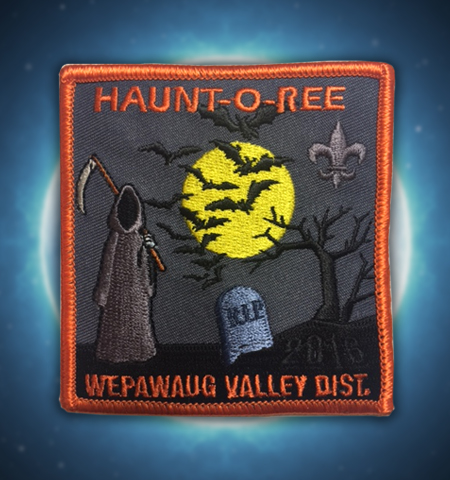 Speaking of images in front of a moon, this Haunt-O-Ree patch from Wepawaug Valley District features a hoard of bats against a bright yellow moon. This thread color creates a lot of contrast against the dark grey background. The ghost stitched year on the bottom is also a great touch.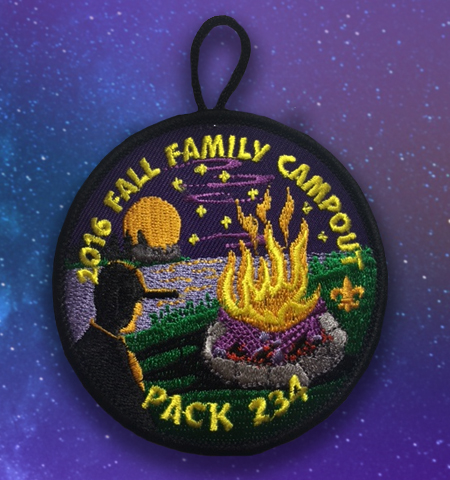 This is a great example of simple, iconic imagery with amazing details from Pack 234's Fall Camp-out. Not only does this patch have a simple silhouette highlighted with color, it also shows a subtle reflection of the full moon in the water.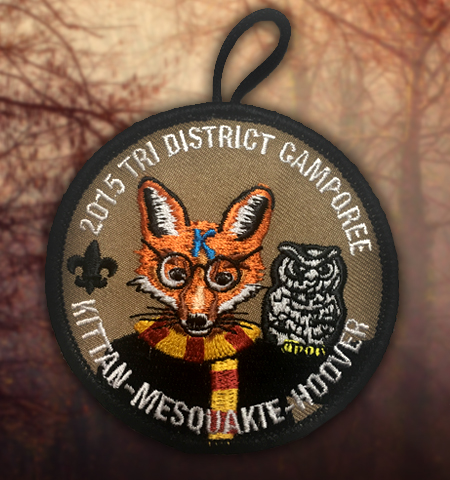 This clever patch from The 2015 Tri District Camporee features and fox in a familiar costume. We love the addition of the owl companion, as well as the detailed stitching on the fur.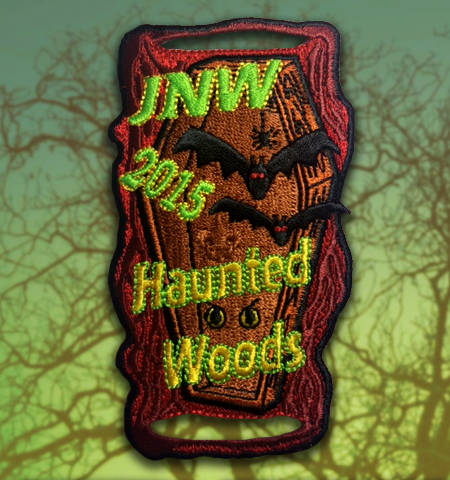 This 2015 Haunted woods patch is also a neckerchief slider! We love the irregular patch shape, and the subtle background texture. The bright green and yellow really stand out on this one.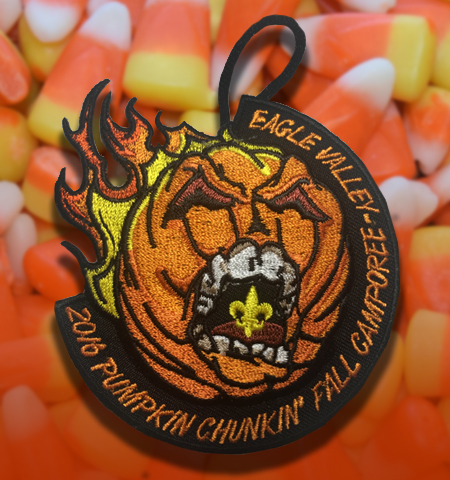 Last, but not least, is this hilarious camporee patch. Eagle Valley wasn't afraid to add some humor to their event patch with this flaming pumpkin. The diecut edges of the flames are a creative way to make the patch unique.
Which one was your favorite? We hope that these patches have inspired you and made you excited for the next season. If you have your own ideas for fun patches, don't hesitate to place a free quote with us. Our team of talented artists can help you turn your ideas into reality.